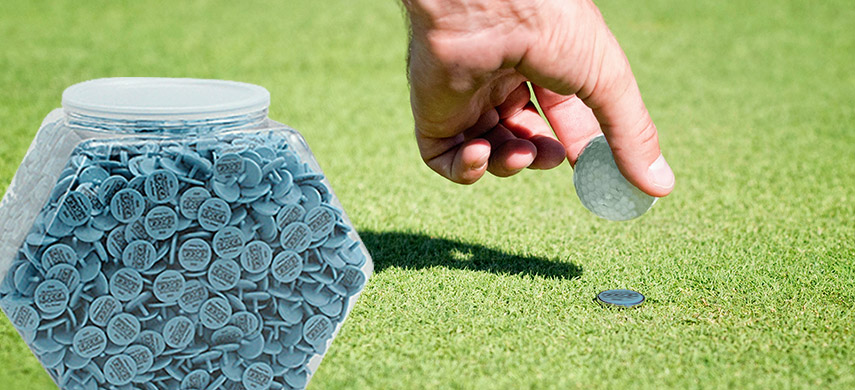 Customized Golf Markers
They say that a lot of business is done on the golf course, and while that may be true, one thing for certain is that you can display your business logo on the golf course utilizing custom golf markers. At Par Golf Supply, we offer a range of options for custom golf markers that make them great items for gifts, giveaways, and more. We offer custom golf markers in several different materials as well as different sizes. Contact us today to learn more about how you can get custom golf markers for your team.
Multiple Materials and Sizes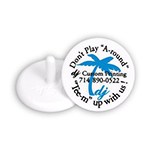 Custom golf markers can make great giveaway items, and our plastic golf markers come in two different sizes that are either referred to as "dime" size or "quarter" size. These plastic markers can have your logo printed in up to two colors. And these custom golf markers can come in a variety of colors for the plastic as well. We can also package these in a clear display bowl to make giving them out easy and fun.
Our custom golf markers are also available in solid aluminum that is etched with your logo. Multiple colors of aluminum are available with the etching done in white. If desired we also have our golf markers available in wood that is not imprinted with anything, allowing you to have whatever you like put on these golf markers.
Unique and Creative Custom Golf Markers
Golf and poker seem to go hand in glove, and our custom golf markers are no exception. We have a number of different poker chip styles that also double as a custom golf marker. Most poker chips are to be used as they are, while some models made of aluminum feature a center golf marker that is removable for use on the green. We also feature several hat clips that also feature a magnetic golf marker and these can be customized with your logo, initials, a date, or anything else that will fit.
Custom golf markers from Par Golf Supply make great gifts for groomsmen, your sales team, as giveaways to your clients, or other significant situations where you want to provide something different. From custom printed plastic golf markers to etched aluminum golf markers to special custom golf markers made into poker chips or hat clips, we have the right solution for your needs, whether corporate or personal. Contact us today to learn more and place your order.